Artists
Steve Cooney
Steve Cooney was born in Melbourne, Australia, but of Irish ancestory. He is now living in Ireland for many years. He is one of Irelands leading guitarists and a highly respected producer in the Irish music industry. From the age of seventeen Steve Cooney played in rock bands including Fruitcake and Bushwackers. Then he joined the famous Irish trad group, Stockton's Wing. Since then, Steve has being playing and recording with Sharon Shannon, Altan, Martin Hayes and many others. He is married to the famous singer Sinead O'Connor. For a number of years Steve has been involved in a famous traditional Irish music partnership with the renowned and dynamic Kerry accordion player Seamus Begley.
---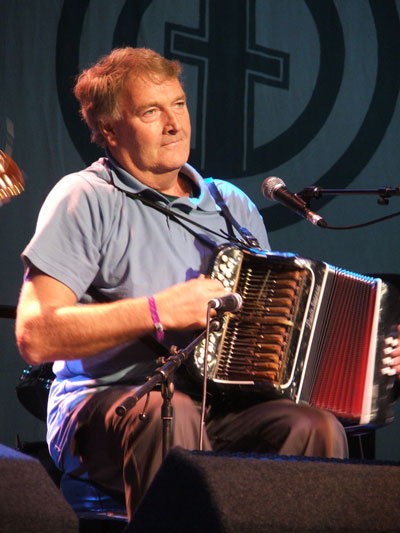 Seamus Begley
Seamus Begley from the Kerry Gaeltacht has been playing music since his childhood and at the age of fourteen was playing the accordion at local dances. He recorded his first album in 1972, An Ciarraioch Mallaithe, with his sister Maire, who is also a renowned accordion player and singer. He made another album,"Plancstai Bhaile na Buc" in 1989. Seamus Begley is a renowned singer with a large repertoire of songs in Irish and English. He formed a famous duet with the incredible Irish/Australian guitarist and didgeridoo player Steve Cooney which lead to one of the most exciting albums in Irish music ever, "Meitheal". Seamus also plays with the famous guitarists Tim Edey and Jim Murray.
---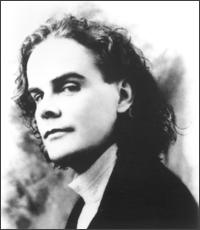 Patrick Cassidy
Patrick Cassidy was born in 1956 in Claremorris, Co. Mayo. He is a renowned Irish classical composer. He also works in TV and films. His aria "Vide Cor Meum" was used in the films Kingdom of Heaven (2005) and Hannibal (2001). Patrick Cassidy now lives in Los Angeles, USA. He is an old acquaintence of Dick Hogan since his traditional music days around Ireland where Patrick used to play the harp. Patrick Cassidy's, "The Children of Lir" album which was released in September 1993 remained at number one in the Irish Classical Charts for a full year. It was the first Cantata ever written in the Irish language. Patrick Cassidy's commissioned piece, "Famine Remembrance" was premiered in St Patrick's Cathedral, New York in 1996 to commemorate the 150th anniversary of the Irish Famine. Other albums include "Cruit", "Deirdre of the Sorrows", and in 2004 "Immortal Memory" which was a collaboration between Patrick Cassidy and Lisa Garrard who won a Golden Globe for "Gladiator".
For more information see Patrick's site
---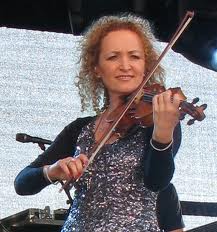 Fionnuala Sherry
Fionnuala Sherry was the leader of the RTE Concert Orchestra group for this album, "The Wonders of the World" where she was accompanied by the internationally renowned Oboeist David Agnew, Mairead Nesbitt: Violin, Una Ni Chanainn: Cello, Patrick Kennedy: Trombone, Dave Wheatley: Trombone and Declan McCarthy: French Horn.
Fionnuala Sherry made up the female part of the Instrumental duo Secret Garden which won the Eurovision Contest in 1995 with the instrumental piece "Nocturne". She spent ten years with the RTE Concert Orchestra. She has collaborated with such musicians as The Chieftains, Sinead O'Connor, Van Morrison, Chris de Burgh and Bono. Fionnuala Sherry has also recorded Hollywood film scores including "A Room with a View" and "The Mask".
For more information see Fionnuala's site
---
Mick Lally
Mick Lally did the wonderfully knowledgible sleeve notes on Dick's album, "The Wonders Of The World". He also launched Dick's album to a packed house in the O'Shea Moran Hotel in Dublin.
Mick Lally who was born in Tourmakeady, Co. Mayo in 1945 and went on to become one of Irelands finest and most recognisable actors on stage, film and television. He was a founding member of the Druid Theatre Company. He was also a member of the Field Day Theatre Company where he starred in the 1980 premier of Brian Friel's play "Translations". Mick Lally also performed in many Abbey Theatre productions. He starred in the TV series "The Ballroom of Romance" with Brenda Fricker in 1982. Mick Lally then went on in 1983 to play his most famous role as Miley Byrne in the RTE soap "Glenroe". Mick was also well known as a Sean Nos singer and loved humorous traditional songs and in 1990 his song "The By-Road to Glenroe" went to the top of the Irish charts. It was inevitable that Mick Lally should meet up with Dick Hogan who is also well known for humorous songs and had sessions with Mick mainly in Galway where both were regular visitors. In 1995 Mick Lally portrayed Dan Hogan in the film adaptation of Maeve Binchey's "Circle of Friends". Other film roles included Our Boys, A Man of no Importance, Poitin and the Outcasts. Sadly, Mick Lally passed away on 31st August 2010. The Taoiseach, (The Irish Prime Minister) Brian Cowen led the tributes describing Mick Lally as one of the most loved actors of his generation.
Films in which Mick appeared include The Year of the French in 1982, The Fantasist in l986, Upon my Word in 1989, the Secret of Kells in 2009, Thats Alright in 1989, Middletown in 2006, Fools of Fortune in 1990, Scarlett in 1994 and numerous others.
---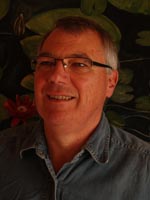 Phil Callery
Phil Callery began his singing career in the Dublin Folk Club scene in the late 1960's. He founded the first "Singers Club" in Dublin in 1970. This Singers Club provided a forum for such artists as Dolores Keane, Triona and Maighread Ni Dhomhnaill, Mary Black, Paul Brady, Luka Bloom, Christy Moore and many others. Phil Callery has accompanied such artists as Sinead O'Connor, Christy Hennessey, Jimmy McCarthy and others on their albums. Phil is an renowned singer in his own right but is probably best known for his work with The Voice Squad, a famous group who performed for many years all over Ireland and abroad.
---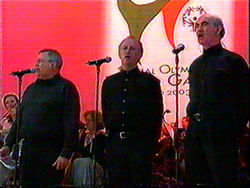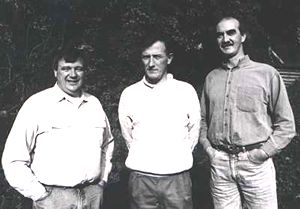 The Voice Squad
The Voice Squad are a traditional Irish singing group whose members include Gerry Cullen, Phil Callery and Fran McPhail. They are famous for their harmony singing but they all sing traditional Irish songs unaccompanied as well. The Voice Squad have performed all over Ireland, the UK, Europe and the USA. They performed at the opening of the Concert venue, The Helix, for Ireland's President Mary McAleese in October 1992. In June 2003 the Voice Squad performed at the opening ceremony of the Special Olympics World Games in Ireland with Ronan Tynan and Rita Connolly. The Voice Squad have also accompanied many other artists on their albums including The Chieftains, Dolores Keane, Elvis Costello, Christy Hennessy, Liam O'Flynn, Rita Connolly, Jimmy McCarthy and Sinead O'Connor.
---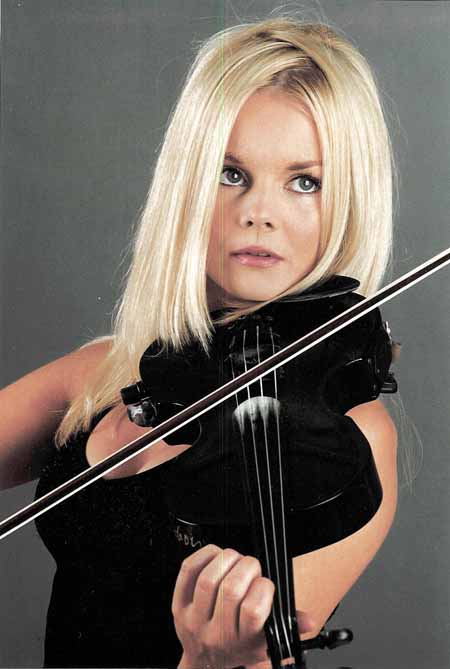 Mairead Nesbitt
Mairead Nesbitt is from Loughmore in County Tipperary. Her whole family are well known musicians. Mairead Nesbitt herself is a noted Traditional and Classical musician playing violin, fiddle and piano. She was a member of the RTE Concert Orchestra during the recording of Dick's album, The Wonders Of The World. She then went on to work with performers such as Van Morrison, Sharon Shannon and Clannad. In 1996 Mairead Nesbitt performed in Michael Flatley's "Lord of the Dance" and continued to do so until 1998 and then on to Michael Flatley's second show, "Feet of Flames". Mairead released her debut album, "Raining Up" in 2001. This album features numerous guest performers including her mother, sister, and two of her brothers Sean and Karl. She went on to produce five more albums with her own band Celtic Woman, the albums being, Celtic Woman: A Christmas Celebration, Celtic Woman: Songs from the Heart, Celtic Woman: The Greatest Journey, Celtic Woman: A New Journey, and Celtic Woman. In 2006 the Celtic Tenors released their "Live in Concert DVD" which features Mairead Nesbitt on several tracks. Mairead is a former Fleadh Cheoil All Ireland fiddle champion and was named best traditional female in 2003 by the Irish Music Magazine.
---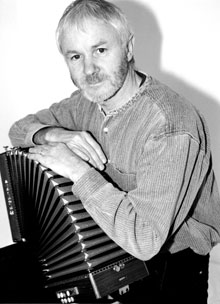 Mairtin O'Connor
Mairtin O'Connor is one of the most renowned accordion players in Ireland and has been a member of numerous traditional music groups including "The Boys of the Lough", "Midnight Well", "Skylark" and "De Dannan". Mairtin O'Connor has produced several remarkable albums including "Perpetual Motion" in 1990, "A Connachtman's Rambles" and "Chatterbox" in 1993. He has performed as a session musician on recordings of Rod Stewart, Elvis Costello, The Waterboys, Davy Spillane, Tanita Tikaram, The Chieftains, Mark Knofler, The Dubliners and numerous others. Mairtin O'Connor has performed with the RTE Concert Orchestra and Riverdance. He received the Traditional Musician of the Year award in his home of Galway in 1995. He has produced numerous solo albums and has many compositions of his own to his credit. In 2003 Mairtin O'Connor composed the "Rain of Light Fireworks Suite" for the Dublin , St. Patricks Day Festival fireworks display. Mairtin is renowned for his amazing skill, versatility, dexterity, imagination and brilliant technique as an accordion player.
---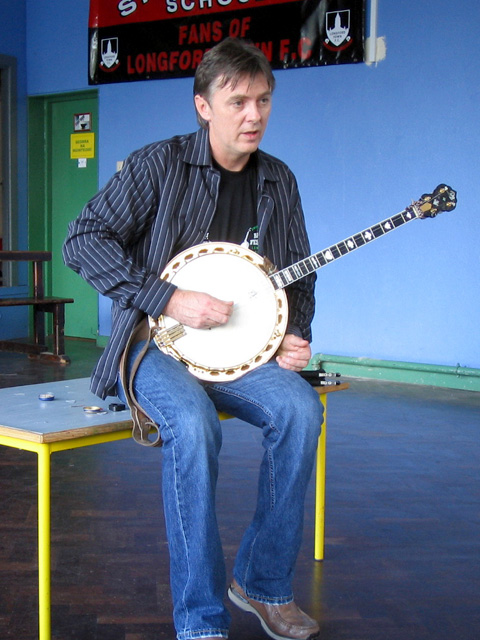 Gerry O'Connor
Gerry O'Connor is Irelands most famous banjo player. Some say he may be the worlds greatest banjo player. He is a member of the well known group "Four Men and a Dog". Gerry hails from Garrykennedy in County Tipperary and all his family are steeped in traditional music. As well as being a performer, Gerry O'Connor is a composer and a much sought after session musician. He has performed as a guest musician with such artists as The Waterboys, Mary Black, Luka Bloom, Moya Brennan and Arcady. He performed for US President, Bill Clinton, during his historic visit to Belfast. Several tutor books and videos's have been produced by Gerry O'Connor as well as several albums. He has also given lectures to students of Irish music at Limerick University. The Irish Times named his album "No Place Like Home" the numer one traditional/folk album of the year in 2004.
---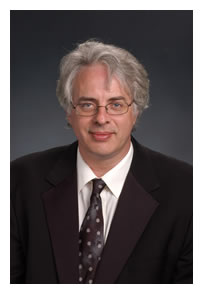 Frank McNamara
Frank McNamara hails from Thurles in Co. Tipperary, near to Dick Hogan's homeplace. He had his first piano lessons in the Convent in Doon beside the Christian Brothers School where Dick also attended for a couple of years. It was only natural then that it was to Frank McNamara that Dick should first turn, to make his recordings for his album at Frank's recording studio at Dunshaughlin, Co. Meath. Frank McNamara began his career at the age of 11 when he first appeared on RTE television. He graduated with honours in music from Trinity College, Dublin. He received the most outstanding pupil award at the Royal Irish Academy of Music. Frank McNamara was Music Director of RTE's Late Late Show for 20 years. He toured in the United States, Australia and New Zealand with "The Irish Tenors", a group which he helped to found in 1998 and which has been very successful. As a pianist, Frank McNamara is one of Irelands most familiar faces. Frank McNamara has made albums with The Irish Tenors, Mary Lowe, Ronan Tynan, David Agnew, The American Tenors, Rebecca Storm and John McDermott among many others. He has conducted the Pittsburgh Smyphony Orchestra, the Boston Pops Orchestra, the Royal Philharmonic Orchestra, the Baltimore Symphony Orchestra and the Melbourne Symphony Orchestra. He also has many albums to his credit and numerous films.
For more information see Frank's site
---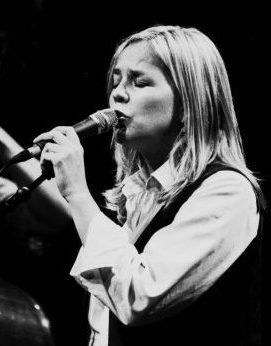 Leslie Dowdall
Leslie Dowdall first became prominent as the singer in the 80's Celtic rock band "An Tua Nua" for about seven years. She left the band and became one of Irelands best known singer-songwriters. Leslie Dowdall released her first album, "No Guilt No Guile", in 1997 for which she won the best solo female artist at the Heineken/Hot Press Music Award. She released her next album "Out There" in 1998. In 1999 Leslie Dowdall featured in a series of Beatles Celebration Concerts at the National Concert Hall. Vocal accompanyment is provided by Leslie Dowdall on the 1st track of Dick's album.
For more information see Leslie's site
---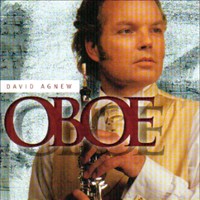 David Agnew
David Agnew, a Dubliner, first took up the Oboe at the age of seventeen and is now Irelands best known Oboist. In 1982 he joined the RTE Concert Orchestra and is a frequent soloist with them. In 1983 he married the well known Television personality, Twink. David Agnew has performed all over the world in Classical, Traditional and Pop. He has recorded with The Chieftains, Phil Coulter, Frank Patterson, Riverdance and Lord of the Dance. He has a number of albums to his credit and plays on three tracks on Dick's album "The Wonders of the World".
For more information see David's site