About Dick Hogan
Tipperary man, Dick Hogan, born in Roesboro, Tipperary and at the age of twelve moved to Foildarrig, Cappawhite in the Slieve Phelim mountains in mid west Tipperary close to the Limerick border, a place where Dick says traditions die hard. He can never remember a time when he didn't sing and that he must have been singing before he was born at all. His father was a very good singer, mostly of John McCormack songs and rebel ballads of the Tipperary area. His mother also had the words of countless songs and they could both quote reems of poetry off by heart. Dick attended the Christian Brothers school in Tipperary town where all the students were taught the famous old nationalistic ballads from the Christian Brothers own published song book. He was also heavily influenced by the old radio programmes, the Waltons, Take the Floor with Dingo, and the sponsored programmes where the dominant songs came from John McCormack, Delia Murphy, Joe Lynch and Brendan O'Dowda.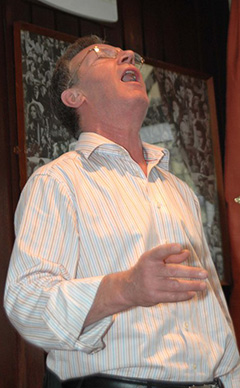 Dick went to Dublin as a young man of just seventeen years of age as a trainee technician in the then Department of Posts and Telegraphs. By an amazing coincidence his first foreman was none other than Frank O'Dowda, a brother of Brendan O'Dowda, the famous singer of Percy French songs. Frank soon introduced him to Brendan's fan club, "The Brendan O'Dowda Circle" and shortly after he went on a trip to Belfast with Brendan and a few others where Brendan was doing a concert in what was then the Grove Theatre.
From that day to this he has been travelling all over Ireland in quest of Traditional music and song. Dick produced a highly acclaimed album which he launched in 1997 called the "Wonders of the World". The title was very aptly chosen and tells a lot about Dick's character. It was a complex album where every track was given different musical treatment from many of Dick's old friends, amongst the most famous and most accomplished traditional musicians in Ireland. There are three songs on the album with accompaniment by the R.T.E. Concert Orchestra. One acclaimed broadcaster and critic, John O'Regan, described it as a staggeringly brilliant collection and urged everyone to hear it.
Dick has toured in many parts of the world, having been to the USA more than a dozen times with the Slievenamon set dancing group and the Merchant Céilí group. He also has an All Ireland medal for set dancing. Dick and his wife Bridget who is known to sing occasionally and also an All Ireland champion set dancer travelled all over Ireland with the famous set dancing maestro Connie Ryan helping with the revival of old set dances which were largely forgotten. He also toured in Russia with the Shaskeen Céilí band. He has been to many parts of Europe and South Africa but his proudest moment was when on a tour of Australia, Hong Kong and China he sang the great old favourite, "If We Only Had Old Ireland Over Here", for a crowd of more than 70,000 people in the centre of the Melbourne Cricket Grounds, the most hallowed stadium in Australia and at the time the largest stadium in the world capable of holding up to 103,000 people. The date was the 9th October 1999. The occasion was the first of two games in the Ireland/Australia rules football matches which at the time marked a major revival of interest in these games. He was with the Merchant Céilí group on the stage that day where he sang the song unaccompanied.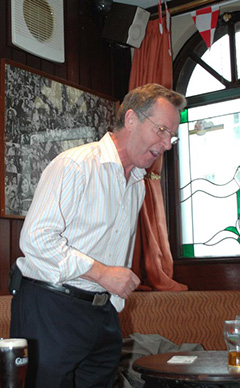 His idols are the great folklore collector, piper, singer and story teller, Séamus Ennis, the incomparable sean nós singer from the Ring gaeltacht in county Waterford, Nioclás Tóibín, who he visited on several occasions to listen to and record with his long time friend and noted authority on such matters, Éamonn Ó Bróithe. John Count McCormack who Dick insists was the greatest master singer ever recorded and the greatest lyric tenor of them all, and to whom every aspiring singer should listen every moment they can spare, irrespective of what type of singing they wish to pursue, and lastly the renowned Donegal fiddle player, Johnny Doherty, who Dick says simply puts a spell on him and brings him back three hundred years in time just as does the singing of Nioclás Tóibín.
His album has been played many times on BBC and RTE radio and is frequently heard on local radio stations all over the country. He has appeared several times on RTE television as a singer and numerous times as a set dancer on BBC and RTE television. Dick and his wife Bridget also featured as set dancers in two films, "September" and "Scarlet".
In july 2013 he has launched the largest and most varied collection of Traditional songs ever recorded by an Irish singer. The project is titled, "The Hogan Collection" and is accompanied by a 300 page songbook.